New generation of digital Welder Brilliant in every way
Excellent Welding Performance
Stable dip-transfer arc process, Low-spatter, Fast welding process.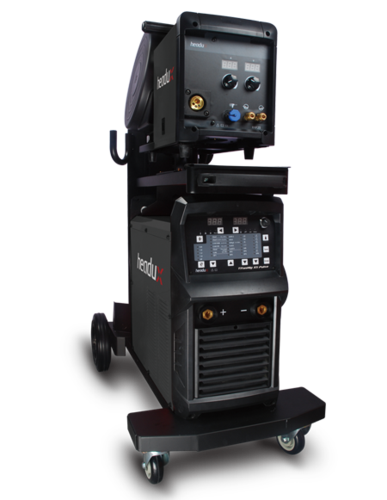 High Welding Speed and Efficiency
With Headux patented control software, it helps the users save time on setup of machine and increase the productivity
User Friendly:
Simple interface, Easy to access as well as quick and easy parameter configuration, system operation
Individual
Upgradable software and job function, meet user's different needs and expectations.
Robotic Welding(X-robotics Version)
Idea for robotic welding, can be integrated with most robot brand such as ABB, KUKA, FANUC, YASKAWA etc. TitanMig X4/X5 Pulse is suitable for any industry using robotic welding for thick mild steel, stainless steel and aluminum components.
The TitanMig X4/X5 Pulse are intelligent power sources with synergic and pulsed MIG/MAG and stick (MMA) welding process. Managed by the high speed micro processor, they provide you with perfect arc control, improved droplet detachment and controlled ignition properties. TitanMig X4/X5 Pulse bring added value for customers by significantly improving welding speed, boosting production efficiency, and enabling the same equipment to be used for a variety of welding tasks. TianMig X4/X5 Pulse make the welding process more precise and reduce spattering in the dip transfer arc process.
As upgradeable power sources, TitanMig X4/X5 Pulse could meet the most extreme expectations of individual welding and provide supreme usability based on actual field application.

| | | | |
| --- | --- | --- | --- |
| | TitanMig X3 Syn/Pulse | TitanMig X4 Syn/Pulse | TitanMig X5 Syn/Pulse |
| Input voltage(A) | 3P~380(+25%,)50-60Hz | 3P~380(+25%,)50-60Hz | 3P~380(+25%,)50-60Hz |
| Rated input power(KVA) | 8 | 13.5 | 24 |
| Input Current | 12 | 22.8 | 37 |
| Rated output voltage(V) | 12-30 | 12-38 | 12-48 |
| Welding Range(A) | 30-300 | 30-350 | 30-500 |
| Open circuit voltage | 61 | 61 | 70 |
| Output 40°C | 60% | 60% | 60% |
| Duty cycle 100%,40°C | 250 | 275 | 390 |
| Wire feed speed(m/min) | 0-25 | 0-25 | 0-25 |
| Wire diameter(mm) | 0.8/1.0/1.2 | 0.8/1.0/1.2 | 1.0/1.2/1.6 |
| Arc adjustment | -9 soft to +9 hard (default 0) | -9 soft to +9 hard (default 0) | -9 soft to +9 hard (default 0) |
| Cool way | Gas(optional water cooling) | Gas(optional water cooling) | Gas(optional water cooling) |
| Efficiency at 100 % ED | 87 | 87 | 87 |
| Power factor at 100%ED | 0.9 | 0.9 | 0.9 |
| Degree of Protection | IP23 | IP23 | IP23 |
| Insulation Class | F | F | F |
| Dimensions LWH(mm) | 685x300x560 | 685x300x560 | 685x300x560 |
| Weight(kg) | 46 | 48 | 52 |
| other version | Robtics | Robtics | Robtics |